Testimonials
What our clients say
We've worked hard at Forever Green Energy to create a professional, friendly and user-focused energy company that we can be proud of. We think we've achieved just that and thankfully, so do our customers. Here are just a few of the great things they've had to say about us.

"I am very happy with the system that was installed.  The team were great, no problems at all.  I highly recommend Forever Green Energy and am happy to refer the company to all family and friends."
– Mr Burke, Swindon
"We put our trust into Forever Green Energy for both our home and our business to provide us with renewable energy at a reasonable cost. We were rewarded with first rate service and excellent products which have proved to be an excellent investment for the future. Recommendations have been flowing to all friends, family and neighbours."
– Ken Barcham, Green Pastures Veterinary Centre, Weston-Super-Mare
"We would like to say thank you to the Forever Green Energy team for estimating and fitting my solar panels. They were installed efficiently and professionally without any fuss or bother. The fitters were very friendly, efficient and clean and we will be recommending Forever Green Energy to anyone who is thinking about having solar panels installed."
– Mr & Mrs Thelwell, Wiltshire
"I have been extremely pleased with the system. The whole process went smoothly and efficiently and I rate the company highly. I would be delighted to refer FGE."
– Mrs Beard, Burnham-On-Sea
"From the initial appointment and survey Forever Green Energy provided a friendly and professional service. During the Air Source heat pump installation they were clean and tidy and kept us informed throughout. If you have an interest in renewable products we would not hesitate to recommend Forever Green Energy."
– Mr & Mrs Hand, Gloucester
"We were pleased with the way the team worked and the system is generating well. We would probably score you at 9 out of 10 (no one is ever perfect!). Thank you Forever Green Energy."
– Mr Cox, Swindon
"I was very impressed with the install team, they left no mess and got on with the job in hand. All running smoothly and I would be happy to refer FGE to family and friends. Great customer service too and I look forward to chatting to the office again with another reading."
– Mr Burton, Chelworth, Wiltshire.
"The whole process has been great. The install team were excellent, no problems with system and we have generated 3940 units. (nearly 20% more than predicted). I love the system, especially the meter reading indicator to identify when the unit is at max. I always recommend solar panels and would highly rate Forever Green Energy."
– Mr Rodway, Portishead, Bristol
"Overjoyed with our system and it is generating well. The install team and office were great and we are happy to refer FGE."
– Mr Miller, Bradley Stoke, Bristol.
"The work that was done is nothing less than excellent, the Team were very polite at all times and their work was very professional. We have no complaints. The Forever Green Energy consultant was able to explain and show my wife how the system worked in terms that she could understand. One of the only consultants from four different companies we made enquiries with to do so. We rate FGE 10 out of 10 and give this with many, many Thanks."
– Mr Driscoll, Merthyr Tydfil
"The entire process was great, salesman, installers were very good. My score out of 10 would be a big fat 10!!!!!!! No problems and happy to refer FGE."
– Mr Wharton, Langdale Gate, Witney
"Forever Green Energy's was the most reasonable quote of the three companies. They were prompt and the installation was straightforward and easy as I have a long, sloping roof. When I bought the solar panels I knew it would take a few years to recoup the investment. I've saved more than estimated. I'm very pleased with the product and very pleased with the return of investment."
– Christopher Pether
"They were wonderful. Absolutely marvellous. They were very prompt, tidy and the installation was done very quickly. And they always answered any questions I had. I recommended solar panels to my daughter who also had them installed by Forever Green Energy and she is very happy with them too."
– Elizabeth Tovey
"I told Forever Green Energy exactly what I wanted and that's what they gave me. In fact, I found them to be a really professional company. The fitters were excellent. I was told the installation would take about a day, but they completed it in less than a day. It looks tidy and professional. I have 12 solar panels and I like the negligible impact they have. I would definitely recommend them – I think they're a very good investment."
– Noel Walter
"A small, local company that hasn't lost touch with its customers and offers a great deal when it comes to renewable energy solutions. System appears to be going well. I forget about it now. I thought the surveyor had a down to earth sales approach and it was refreshing. The install team were very good, unassuming, friendly and hard-working (it was raining at the time too)."
– Mr Freeman, Charlecote Corner, Bishops Cleeve
"We are very happy with our system and everything seems to be running ok. The install team that came did a very good job in appalling conditions because it rained for most of the morning that they were here, but they just got on with it. I was surprised how quick they completed the task. They also explained how everything worked.  As regards to the whole process it couldn't have gone any better. Out of a score of 10, I would have to rate you as a 10."
– Mr Gray, Holly Walk, Nuneaton
"The whole process was excellent from start to finish. The Solar Rep was fantastic and very knowledgeable and friendly. The install team were precise, clean and also friendly. I am happy to refer FGE to friends and family and rate your company 10/10."
– Mr Hyde, Worcester
"We are very happy with the system, the way it was planned and the installation. Compared to other companies we had quotes and information from, we would rate you 10/10 for design and product supply."
– Mr Evans, Cardiff
"Firstly just to say that I am very pleased with my system, the installation team did a very good job, looks good inside and outside. House left clean and tidy afterwards. All generally very good. In terms of a score for the whole installation and dealings with you I would give you 10 out of 10."
– Mr Collings, Bath
"The system seems to be working very well and the monthly output surpasses your estimates. The team fitted the system quickly and efficiently and thanks to Rob's help were claiming our FIT by the following day. The engineers were professional, friendly and tidy overcoming any issues without any fuss. We would rate the whole experience swift and professional and worthy of a 10/10."
– Mr & Mrs Robson-Glen, Llantwit Major
"I am very pleased with the panels on the roof, they did a very good job fitting them. I rate Forever Green Energy 10/10.  Many thanks for your extremely good service that you supply, also with the after care."
– Mr Morris, South Gloucestershire
"I would definitely recommend solar panel installation. It's been everything Forever Green Energy promised it would be. So far it's a win-win situation."
– Sophie Hunt
"Thanks for getting the guys back yesterday. They were on excellent form, despite a no doubt long day! We have been very impressed with your whole team, especially the installation lads, throughout the install and in resolving the missing tile and cable routing issues. Both issues now fully resolved. Thanks again for your swift reaction and resolution."
– Mr Dubber, Hampshire
"Whole experience was a positive one and the savings I am seeing are higher than expected. I would rate FGE 10/10."
– Mr Axe, Nailsea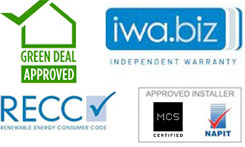 "Forever Green's was the only company who sold the system on the science first. And what's more, the quote was one of the most competitive."

Mike
Forever Green Customer
Get A Free Quote
Use the form below to get in touch and find out how we can help.
Alternatively, please call 01242 370308 to speak to an expert today.