Everyone knows that running a car costs money, but do you ever look to see how much each trip is really costing?
Or do you just pay whatever it takes because you have to have a car?
Here's a great way to release yourself from those costs, with a helping hand from a neat little gadget called Zappi.
Does it really cost that much?
Trying to state what a car costs per mile, or per week, is tricky as every car is different, every driver is different and every family's needs are different. But did you know that with petrol at £1.29 per litre, a small car will cost over 10p per mile in petrol alone? A large car will be closer to 20p!
That really puts small trips into context, particularly as fuel consumption is worse on small trips because the car isn't properly warmed up. If your supermarket is five miles away, you could be spending £1.00 to £2.50 in fuel, just to go there and back.
It's not just fuel
That's without taking into account the cost of the car in the first place, then insurance, road tax, tyres, servicing and parking fees.
If those are included (along with car depreciation), the AA reckons a petrol car that costs up to £13,000 to buy, doing 5,000 miles a year, will cost over 50p per mile. If the car costs between £13,000 and £18,000 the cost per mile rises to more than 80p.
Would an electric car be any better?
You might already be considering an electric car. Although they are a bit more expensive to buy in the first place, you don't have to pay road tax. And things like insurance, servicing and tyres should cost roughly the same.
But you're probably wondering about the electricity. Won't it cost a lot more on your electricity bill to charge the car?
The good news is that it shouldn't. Again it's difficult to give a 100% accurate answer as different households have different tariffs and use their cars differently.
But generally speaking, electric car owners are reporting that the extra cost of charging is significantly less than they used to pay for petrol or diesel.
How can you get it for free though?
Instead of lower costs, you can charge your electric car for nothing using renewable energy sources like solar panels and Zappi – your intelligent home electric car charger.
With solar panels or wind turbines (or both) you can generate electricity for nothing apart from the initial cost of buying and installing the equipment.
How much does it cost to charge an electric car?
The cost of charging an electric car depends on the battery capacity and range of the vehicle.
See below the running costs for some of the most popular electric cars.
| | | | | | | |
| --- | --- | --- | --- | --- | --- | --- |
| | Battery Capacity (kWh) | Range (miles) | Cost for full charge @ 15p/kWh | Cost/mile @15p/kWh | Cost for full charge @ 7p/kWh | Cost/mile @ 7p/kWh |
| Full electric | | | | | | |
| Renault Zoe | 22 | 150 |  £3.30 | 2.2p |  £1.54 | 1p |
| Nissan Leaf | 30 | 155 |  £4.50 | 2.9p |  £2.10 | 1.4p |
| BMW i3 | 33 | 190 |  £4.95 | 2.6p |  £2.31 | 1.2p |
| Tesla Model S | 100 | 380 |  £15.00 | 3.9p |  £7.00 | 1.8p |
| Volkswagen E-golf | 24.2 | 118 |  £3.63 | 3.1p |  £1.69 | 1.4p |
| Hybrid electric | | | | | | |
| Volkswagen GTE | 8 | 31 |  £1.20 | 3.9p |  £0.56 | 1.8p |
| Mitsubishi Outlander | 12 | 32 |  £1.80 | 5.6p |  £0.84 | 2.6p |
| Mercedes C350e | 6.2 | 19 |  £0.93 | 4.9p |  £0.43 | 2.3p |
| Volvo XC90 T8 | 9.2 | 14 |  £1.38 | 9.9p |  £0.64 | 4.6p |
| Volkswagen Passat GTE | 9 | 31 |  £1.35 | 4.4p |  £0.63 | 2p |
For full electric cars, the cost per mile is between 2-4p/mile if charged off conventional domestic electricity.  If, however, you charge overnight off economy 7 tariffs or the newer dedicated electric car charging tariffs the cost per mile can range from 1 to 2p/mile.  Good Energy, OVO and Ecotricity have all launched EV charging tariffs.  By contrast, the AA quotes the cost of running a car on unleaded petrol as between 11 and 19p/mile. The maintenance cost of electric cars have also been shown to be significantly less than their fossil fuel equivalents.
What does Zappi offer?
The Zappi is a charging system for your car's battery that can be attached in a suitable position on your house or garage wall. If you have solar panels or a turbine it makes sense to divert the power generated to your car instead of the grid.
The unit offers three charging modes – Fast, Eco and Eco+ – which you can select depending on how long you have to charge the car before its next use. It has plenty of other features that help you get the most out of your power and increase safety.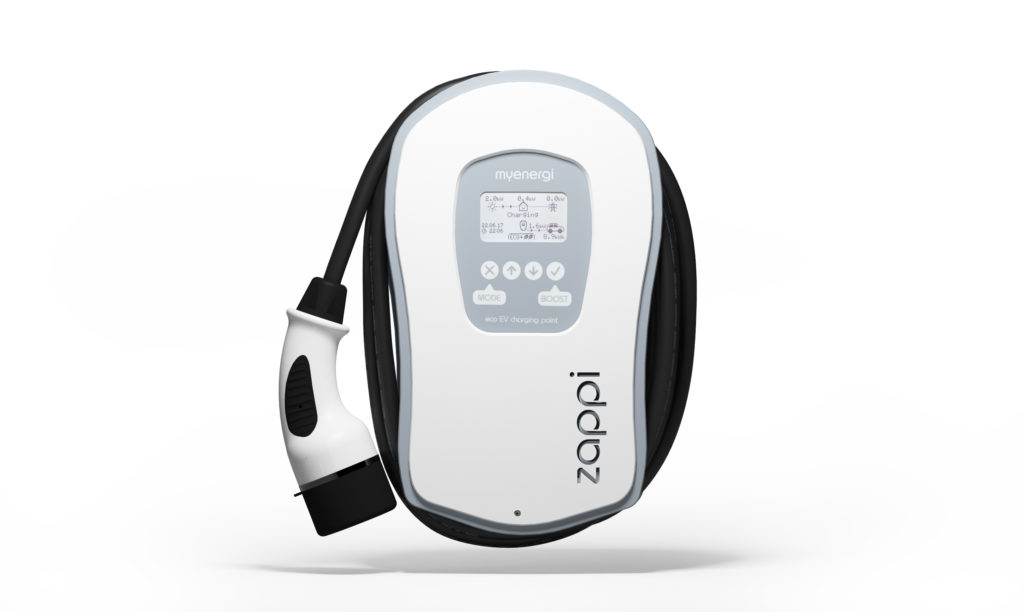 Here's what Jordan Brompton from My Energi has to say about Zappi:
'The zappi is the smartest charger on the market, and the only one that pays for itself in savings. How quickly it pays the customer back can vary quite drastically, as obviously the variables change for each home. In most cases we predict the zappi will pay for itself within three to four years.
For drivers that park their car at home a lot, or have a zappi at an office with micro-generation, it will be a lot quicker – somewhere between one and three years.
If the government has paid for it under the OLEV scheme then the homeowner only has the installation costs to pay, which start at £249. What's not to love about the zappi? It promotes green, clean energy that will help save the planet and our health as a collective.
Imagine a world where people generate their own electricity and support the grids to de-carbonise, while driving round in electric cars and breathing in clean air.'
If you would like to fuel your car for free, find out about our electric car install process here.