Other Ways to Save
LED lights
With rising electricity costs and falling LED costs, it makes sense to fit your home with LED lighting.
Even though the cost of each LED bulb is more than you would pay for an everyday or halogen bulb, you can expect to save hundreds of pounds every year on energy bills by swapping to LED.
LED lights are the most efficient bulbs available, using around 90% less energy. This is because they instantly reach full brightness, and they are also available in dimmable versions.
Battery storage
Your solar panels generate energy during daylight to power your home with electricity and hot water. Any unused energy is fed back to the national grid.
Battery storage will store that energy for you instead. And if you produce even more energy, you still feed any surplus back to the gird.
So you boost the efficiency of your solar panels even further and save even more money.
Voltage optimisers
Voltage optimisation manages incoming voltage and reduces it to a level more suitable for your appliances.
A voltage optimiser will reduce your mains voltage to a level, providing greater efficiency, reduce wasted energy and savings on energy bills.
For more information on voltage optimisers, please contact us and we'll be happy to talk you through the options.
Solar iBoost
In the same way that battery storage uses surplus energy, Solar iBoost uses unused photovoltaic energy generated form your PV solar panels to cut the cost of heating your water and reduce the use of your boiler.
A Solar iBoost fits neatly in your airing cupboard with no complicated wiring required. It cleverly controls the amount of energy fed into your immersion heater, ensuring that only surplus power is used.
Insulation
Insulating is the first stop to ensuring a building is being heated as efficiently and cheaply as possible. It goes without saying that you will spend less money heating a building that is well insulated.
The good news is that insulating a building is relatively straightforward and extremely cost effective.
The main areas that will benefit from insulating are the roof, loft and the walls.
Double Glazing
Ensuring your property has effective double glazing installed is the first stop when creating an energy efficient building. Double glazed windows create an insulating barrier that keeps the heat in. Heat loss is reduced as well as fewer drafts and cold spots, meaning it's easier and cheaper to heat your property.
Replacing single glazed windows with double glazing is quick, straight forward and you can instantly see and feel the results. Energy bills should be immediately reduced.
We are CERTASS registered experts in double glazing and can recommend the best and most cost effective solution for you. Contact us now for a bespoke quote for your property.
Wall Insulation
Whether a building has cavity or solid walls, you will cut heating costs substantially by having them insulated.
Cavity wall insulation is common in houses built after 1920 and refers to a building that has two layers of brick with a gap in between them. Cavity wall insulation fills that gap, providing a barrier to keep the warm in and save energy.
Solid wall insulation is highly effective and could cut your bills significantly as solid walls let through twice as much heat as cavity walls. Insulation can be fitted on either the inside or the outside of your home. Internal insulation is achieved by fitting insulation boards on the inside of the wall and filling it with a mineral wool fibre.
External wall insulation is done by fixing a layer of insulating material to the outside of your house and then covering it with render or cladding. As the appearance of the outside of your house will be changed we would always recommend that you check to see if you need planning permission.
There are pros and cons to both internal and external wall insulation but we can advise you on the most efficient and cost effective way to insulate your walls so that you can start saving money immediately.
Roof and Loft Insulation
Ensuring a loft is well insulted is a simple and very effective way to prevent heat escaping. It's a straightforward job that gives immediate results.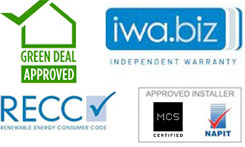 "Forever Green's was the only company who sold the system on the science first. And what's more, the quote was one of the most competitive."

Mike
Forever Green Customer
Get A Free Quote
Use the form below to get in touch and find out how we can help.
Alternatively, please call 01242 370308 to speak to an expert today.