The rise of the solar panel kit is thanks to the increase in people turning to renewable energy. Solar power is a superb way to generate energy for your home in a clean, efficient and sustainable way, and it can lead to a considerable reduction in your household energy bills!
However, what makes some homeowners hesitate is the cost of hiring contractors to fit solar power systems (also known as photovoltaic systems) to their property.
There is now a range of solar power kits available. These provide all the components and instructions you need for DIY solar systems, including the panels, the inverter and any mounting system needed.
You can select a solar power kit to match the space you have available, and the level of output you need to match your energy requirements. The size and degree of complexity involved then dictate how quick it is to fit.
For example, a compact solar power kit generating up to 4kW could potentially be up and running within 24 hours. However, if you invest in a solar power kit generating 8kW (or up to 20kW) it can take several days to get it fully operational.
There are even solar power kits that are suitable for boats and motorhomes too!
If you do choose a solar panel kit, you won't be able to claim any government benefits that may come into effect, for example if the government decide to replace the Feed-in Tariff Scheme (FITs) with something else. It's also likely to prove difficult if you decide to sell your home, as most buyers will want to see that solar panels were installed by an MCS-registered company.
So are solar panel kits worth it? We'll go through some of the options available and the advantages and disadvantages of installing your own solar panels.
Grid-tied kits
As the name implies, this method of harnessing solar energy in your property works in conjunction with your existing mains supply. The panels in the kit have connectors that transport energy to the electric grid that feeds properties in your area.
The main advantage of this is that you can sell any surplus energy you generate to your local energy supplier, and all your own energy is stored by the grid. As no battery or other stand-alone equipment is needed, it can be a low-cost route to solar energy.
However, grid-tied solar power kits are highly specialist in their fitting requirements. A qualified electrician must be part of the process.
Small off-grid kits
This is a great option for when you need a smaller – but still reliable – amount of electricity, and you don't want or need to be integrated with a mains system.
These kits feed energy into a battery, for an easy and highly economical source of power. This is then usually supplied to a generator.
This kit is ideal for when you don't have grid access nearby, such as boats, motorhomes, caravans, cabins and outbuildings.
You simply need to invest in one with the correct sizing to match the energy level required.
As they are not tied to the grid, installation is quick and the whole system is low maintenance. Though the battery and any generator involved will eventually need to be replaced.
Hybrid kit
For some people seeking to harness clean and efficient solar power, having the option of being tied to the grid and collecting energy in a battery is the best of both worlds, particularly as you don't need a generator for this type of kit which keeps equipment and installation costs down.
The inverter in a hybrid solar power kit can feed the grid and a battery. When electricity costs are high, you can use the residual power from the battery, and then revert to the grid when off-peak.
One of the benefits of this option is that you can save a substantial amount on your energy bills, as you be self-sufficient when needed.
It also provides greater flexibility in the way the solar power kit is installed and wired, if it is not entirely reliant on interaction with the mains grid.
Hybrid solar power kits come in various sizes and types, but as they are grid-linked they require the services of a qualified electrician during the installation process.
Choosing between the kits simply comes down to the location of the solar power kit, your energy expectations and preferences and how accessible the grid is.
The pros and cons of using a solar panel kit
There are pros and cons of installing solar panels using a solar panel kit. It's certainly cheaper than using a solar panel company, but is it worth it? Here are some of the benefits and the disadvantages of using solar panel kits.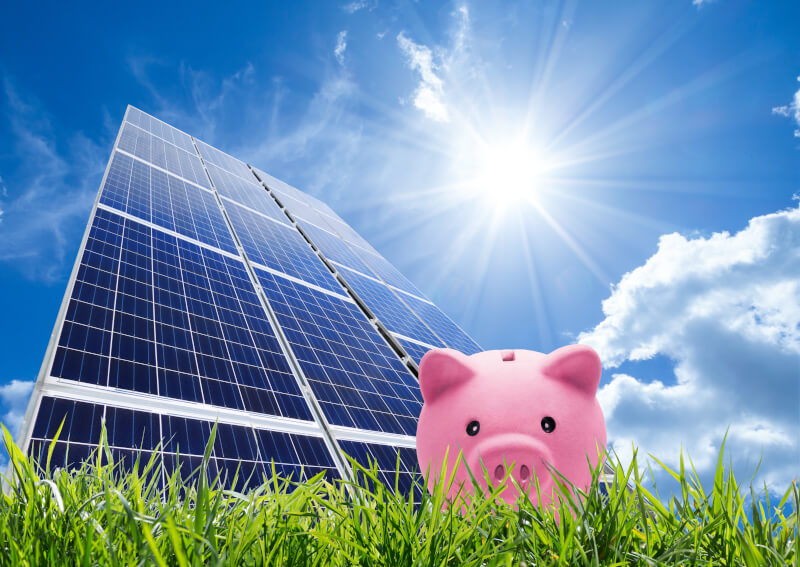 Advantages of solar panel kits
1. Money-saving
Using a solar panel kit and trying to install the solar panels yourself will save you money on installation costs. Just pay for the kit and do the rest yourself, unless you choose one of the grid-tied kits that need wiring in by an electrician.
2. Power an off-grid space
Using a DIY solar panel kit is ideal for properties or buildings that are already off-grid. If you want to power the lighting for a barn, shed or boat, then a small solar panel kit is a great way to generate the electricity for them without having to rely on a generator.
3. Show off your DIY skills
If you're fitting an off-grid solar panel kit, you can probably do it without any help from a professional if you follow the instructions and you're a pretty handy person. Tell all your friends that you installed your solar panels yourself!
Disadvantages of solar panel kits
There are plenty of reasons not to use a solar panel kit. Of course, we think that the best way to get solar panels is to hire a reputable solar installation company – but there's good reason for it. Here's some of the disadvantages to using a solar panel kit.
1. You won't qualify for government incentives
If you use a DIY solar panel kit, it's unlikely that you'll be able to apply for any government incentives that come into force. You might be able to sell your excess electricity to your energy supplier through the Smart Export Guarantee (SEG), but it's still a new scheme. That means new rules could be added, stopping you from claiming it in the future.
The previous scheme, the Feed-in Tariff (FITs), required all installations to be certified by an MCS-registered company. This suggests that any future schemes would require the same certification, meaning your DIY solar panels wouldn't be eligible.
2. Installing solar panels is complex and potentially dangerous
There's a reason why solar panel installers have to be registered electricians and go through extensive training. You'll need to wire electrical equipment, work high up on your roof and lift heavy panels, so not only could you damage your property, you could also hurt yourself.
It's certainly a fire risk to install a solar panel kit yourself too. Most solar panel fires occur when you use the wrong materials or you don't install them properly. It's much better to ask a professional to fit your solar panels.
3. You won't get a warranty
Here at Forever Green Energy our SunPower solar panels come with an industry-leading 25-year warranty. But if you install solar panels yourself using a kit, it's unlikely that you'll get a warranty for that long.
You might get a parts warranty of a year or two from a solar panel kit, but it's unlikely to be much more. So if your solar panels stop working, you'll have to pay to get them repaired yourself.
4. DIY solar panels won't be as efficient
It's highly unlikely that your DIY solar panels will be as efficient as those fitted by a professional. There are some kits around with high-efficiency panels, but most will not live up to the standard that most solar energy companies can provide.
Without professional installation, you can also lose efficiency when you fit them yourself since you won't be clued up on how the electrics work. Our SunPower solar panels are among the highest-efficiency panels you can buy, and as a Premier Partner we can offer you a great price on these top-quality panels.
5. The solar panels might not last as long
Using a solar panel kit might cost less up front, but you probably won't get the same quality as you would if you bought solar panels from a solar energy installer. Correctly-installed solar panels could last you up to 30 years, with just an inverter replacement needed along the way, whereas there's no telling with DIY solar panels.
You'll probably see a shorter lifespan with DIY solar panels and it will cost a lot of money to replace or repair them without a warranty. There's also no guarantee of the quality of the panel, so you could end up only getting a few years out of your solar panels before they break down.
We think it's a much better idea to get solar panels installed by a professional company, since you can be sure of the quality of the solar panels. You'll also get a warranty and the opportunity to apply for any government incentives that come into force in the future.
We can offer you a competitive quote for solar panels that will be much better quality than a solar panel kit. Fill in the form below and we'll be in touch to arrange an appointment with you within 24 hours.